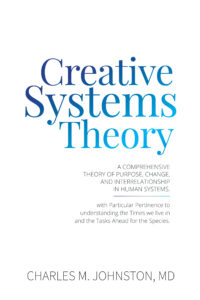 This is the definitive work on Creative Systems Theory. Creative Systems Theory offers big-picture, long-term perspective for understanding who we are and why we think in the ways that we do. It is pertinent equally to appreciating the past, teasing apart current cultural challenges, and making sense of what a vital human future will require of us. 
At a practical level, Creative Systems Theory provide powerful tools for making effective choices in both our personal and collective lives. More conceptually, it makes a major contribution to the history of ideas. It clarities how, while modern age institutions, values, and ways of thinking have served us well, they cannot be sufficient for the tasks a head. And it offers a comprehensive approach to understanding that reflects the more mature and encompassing kind of thinking that will be become more and more essential in times ahead. 
This volume brings together fifty years of committed inquiry and practical application. Think of it as part guidebook, part memoir, part compilation, and part an effort to extend Creative Systems Theory's thinking just as far into the future as is possible.
COMING SOON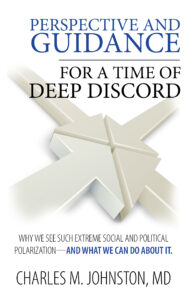 Conversation about the simplest of issues is often close to impossible. In Perspective and Guidance for a Time of Deep Discord, one of today's most innovative social thinkers observes how polarized thinking—from both the Right and the Left—is not just putting civil conversation in jeopardy, it is getting in the way of addressing our times' most essential questions. 
In this short book, Charles Johnston examines why we see what we do and what the greater maturity of understanding needed to get beyond warring ideological purities requires of us. And he addresses what such understanding looks like when applied to critical concerns where divisiveness too often prevails: war and peace, climate change, health care, abortion, immigration, bigotry, the relationship of science and faith, and conflicting views on the nature of progress. 
COMING SOON
Rethinking How We Think: Integrative Meta-perspective and the Cognitive "Growing up" On Which Our Future Depends
Rethinking How We Think brings a cognitive science lens to today's essential tasks. It addresses how any kind of future we would want to live in will require not just fresh ideas, but an essential kind of cognitive reordering—a necessary "growing up" in how we understand. It also looks at how, when we are ready for them, needed new ways of thinking can feel like common sense. Rethinking How We Think is an exploration of the conceptual underpinnings of the future's needed new common sense.
On the Evolution of Intimacy: A Brief Exploration into the Past, Present, and Future of Gender and Love
On the Evolution of Intimacy describes an essential new chapter in identity and love, one that in potential takes us beyond the battle of the sexes and brings new depth and maturity to both how we understand ourselves and our capacity for closeness with another. The book examines easily confusing changes today redefining identity and love. By looking at these changes through a historical lens, it offers big-picture perspective for making sense of why we see what we do and what lies ahead.
Hope and the Future: Confronting Today's Crisis of Purpose
Hope and the Future introduces the Creative Systems Theory concept of Cultural Maturity. It is the place to begin for people interested in understanding the critical "growing up" as a species on which our future depends. The book examines critical challenges that today confront us as a species and confronts how effectively addressing them will require new human capacities—new ways of thinking, relating, and acting. And it looks at how Cultural Maturity's changes make successfully realizing these needed new human capacities possible.
Cultural Maturity—A Guidebook for the Future (With an Introduction to the Ideas of Creative Systems Theory) nting Today's Crisis of Purpose
Cultural Maturity is a comprehensive work intended for people interested in understanding and developing the increasingly sophisticated leadership abilities that moving forward in any part of our personal and collective lives will increasingly require. The book describes how the changes that the concept of Cultural Maturity describes are as significant as those that brought us modern democratic governance 250 years ago. And it argues that if the concept of Cultural Maturity is not essentially correct, it is hard to imagine a healthy—and perhaps even survivable—human future. The book goes on to introduces the Creative Systems Theory notions that underlie the concept of Cultural Maturity.
Quick & Dirty Answers to the Biggest of Questions: Creative Systems Theory Explains What It is All About (Really)
Quick and Dirty Answers to the Biggest of Questions takes on many of today's—and existence's—most ultimate questions. Among them: Why, at different times, has human understanding taken that forms that it has? How do we best understand the times in which we live? How do we best understand the experience of free will? Are the beliefs of science and religion just different or parts of a larger picture? And what is our place in the larger scheme of things? The book proposes that such ultimate questions have tended to baffle us not because they are inherently difficult, but because they require a maturity of perspective of which we are only now becoming capable. By successfully addressing such questions, Quick and Dirty Answers to the Biggest of Questions provides a persuasive argument for the importance of the concept of Cultural Maturity and the ideas of Creative Systems Theory in understanding's evolution.
Pattern & Reality: A Brief Introduction to Creative Systems Theory
Pattern and Reality was developed as a teaching resource for classes at the Institute for Creative Development. It provides a brief introduction to Creative System's Theory's core concepts and is appropriate both for people new to the theory and for those interested in a concise overview. Pattern and Reality has been used as a text in classes in psychology, education, dance, leadership, philosophy and systems thinking more generally. Besides offering introductory perspective, the book includes a number of early articles that applying the theory to current social issues such as the changing face of love, the effects of modern media, and the need to address human limits.
The Power of Diversity: A Brief Introduction to the Creative Systems Personality Typology
The Power of Diversity provides an overview of Creative Systems Theory's framework for understanding human difference. People who have had contact with the Creative Systems Personality Typology generally agree that of frameworks currently available for understanding personality and learning style diversity, it represents the most sophisticated and nuanced. The typology provides important insight into the powerfully creative outcomes that can result when we respect temperament differences and learn to engage them in more conscious and collaborative ways. The Power of Diversity was developed as a learning resource at the Institute. It has been used as a text for classes on leadership, education, psychology, and systemic thinking.
Necessary Wisdom: Meeting the Challenge of a New Cultural Maturity
Necessary Wisdom draws on one of the most accessible ways to makes sense of where culturally mature understanding takes us. It looks deeply at polarities that in times past have divided how we think—either/ors such as "us" versus "them," mind versus body, political Left versus political Right, and masculine and feminine. It examines both why thinking in either/or terms has historically served us and also why in the future it cannot. It also examines how thinking in more complete and systemic ways is something of which we are becoming capable and the implications for the choices we make in spheres as diverse as global relations, medicine, education, and love.
The Creative Imperative: Human Growth and Planetary Evolution
The Creative Imperative first introduced the concept of Cultural Maturity and the ideas of Creative Systems Theory and is still the place to go to find the most detailed presentation of many of the theory's core concepts. The book brings particular nuance to the theory's developmental thesis, how we can see parallel dynamics in the way human systems of all sorts—individuals, relationships, organizations, and cultural systems—grow and change. For many people it remains a definitive source.